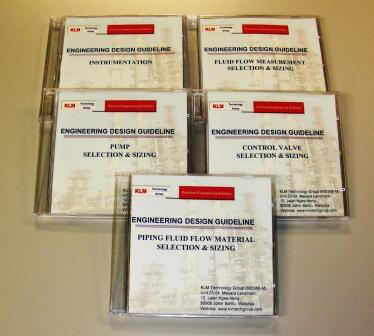 Pumps, Heat Exchangers, Relief Valves, Flares, Compressors, Control Valves, Cooling Towers, Boilers, Tanks
Engineering Project Standards and Specifications
Process Engineering, Mechanical Engineering, Civil Engineering, Electrical Engineering

Engineering Design and Sizing Software
Engineering Software to Design and Size Process Equipment
Overview of Line Sizing Program
Overview of Control Valve Sizing Program
Typical Unit Operating Manuals
Hydrotreater Units, Utility Boilers, Waste Water Treatment Units
Kolmetz Handbook of Process Equipment Design
Training Guidebooks
Training Course Materials
Training Videos
Aromatics, Distillation, Environmental, Safety, Ethylene Process, General Process, Oleo Chemicals, ...
Distillation, Refining, Olefins, Process, Safety, Maintenance,...
Regional Conferences or In House Training for your team.
November 2015 Regional Conference
Be sure and plan to attend our November 2015 Regional Conference to be held in Kuala Lampur Malaysia.
All the training materials will be provided on an Apple I-Pad Mini 16 GB with Wi Fi and Cellular, a USD 400 Value.
Distillation, Equipment Design, Project Specifications, Training, Simulation, Energy Optimization
KLM's Key Partners for Projects
KLM's Web in Languages
Chinese (Under construction)
Physical Address, Contact Number...
Refinery Training, Refinery Operator Training, Gas Plant Training, Engineering Training, Olefin Unit Training, Furnace Training, Distillation Training, Distillation for Operators, Plant Commissioning Training, Safety Training, HAZOP training, Heat Exchanger Training, Flare Training
Boilers and Pressure Vessels
Engineering Standards
Hydraulics and surge analysis
Fundamental Basics
Handbook
Software
Air Coolers
Template
Pipelines

Key Word Cloud
Refinery Training,
Chemical Engineering for Non Chemical Engineers Training
Refinery Operator Training,
Natural Gas Plant Training,
Engineering Training,
Olefin Ethylene Unit Training,
Ethylene Furnace Training, Distillation Training,
Distillation for Operators,
Plant Commissioning Training,
Safety Training,
HAZOP training,
Heat Exchanger Training,
Hydrocarbon Flare Training,
Palm Oil Training,
Oleo Chemicals Training,
Bio Diesel Training,
Hydrocarbon Flare Training Classes,
HAZOP Training,
HAZID Training,
Training Videos,
Basic Engineering Design Packages,
Senior Independent Distillation Consultant,
Senior Independent Hydrocarbon Flare Consultant,
Distillation Design Studies,
Hydrocarbon Flare Design Studies,
Crude Unit Design Studies,
Ethylene Unit Design Studies,
HAZOP Facilitator,
Process Safety Guidelines,
Process Safety Senior Consulatant,
Process Safety Classes
Typical Operating Manuals,
Refinery Operating Manuals,
Utility Operating Manuals,
Typical Refinery Operating Manuals,
Typical Utility Operating Manuals,
Hydrotreater Operating Manuals,
Unifiner Operating Manuals
Water Water Treatment System Operating Manuals,
Wastewater Treatment Manuals,
Crude Unit Operating Manuals,
Boiler Operating Manuals,
Plant Air Operating Manuals,
FCC Unit Operating Manuals,
BTX Unit Operating Manuals,
Industrial Boiler Operating Manuals,
Flare System Operating Manuals
Process Industry Standards PIP,
Engineering Project Handbook Standards,
Engineering Design Handbook Guidelines and software
Guide to Project Management
Guide to Equipment Design
Template to Project management
Template to Equipment Design
Project Management Implementation Guideline
Step by Step Guide
e-learning guides handbook
Body of Knowledge handbook
Quick start guide
Policies Standards and Guidelines
Project Management Guide
Piping Pressure Drop and Fluid Flow Design Guideline handbook software
Control Valves Design Guideline handbook software
Pneumatic Pressure Testing Project Standard and Design Guideline
Hydrostatic pressure Testing Project Standard and Design Guideline
Hydrocarbon Storage Tank Project Standard and Design Guidelines
Manufacturing Ethylene and Olefins Process and Design
Liquefied Natural Gas LNG Process and Design
Hydrotreater Unifiner Unit Process and Design
Butadiene Extraction Unit Process and Design
Air Separation Units Process and Design
Cooling Towers Process and Design and software
Distillation Towers Process and Design and software
Relief Valve Process and Design and software
Technical Introduction
Non Technical Introduction
Reboilers Process and Design
Engineering Project Standard for P&ID
Engineering Project Standard for Commissioning Procedures
Design Software Programs
Project Engineering Standards and Specifications
A. Process Engineering Standards Group (Chemical Engineering)
B. Plant Equipment Standards Group (Mechanical Engineering)
D. Civil Engineering Standards Group
E. Project Plant System Standards Group
F. Refinery Systems Standards Group
G. Pipeline Systems Standards Group
H. Liquefied Petroleum Gas Standards Group
I. Off Shore Systems Standards Group
J. Commissioning Standards Group
K. Maintenance Standards Group
L. Project Management Standards Group
M. Plant Electrical and Instrumentation Standards Group (Electrical Engineering)