Engineering Documentation - we provide general industry or custom built documenation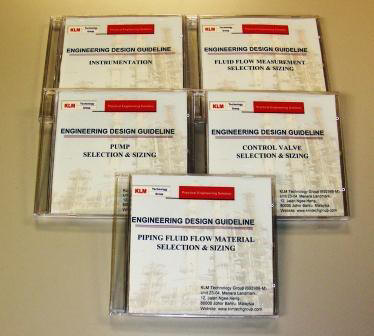 Engineering Design Guidelines
Pumps, Heat Exchangers, Relief Valves, Flares, Compressors, Control Valves, Cooling Towers, Boilers, Tanks
Kolmetz Handbook of Process Equipment Design
Engineering Best Practices
Hydrostatic Testing, Pneumatic Pressure Testing, Hot Tapping, ...
Technical Articles
Aromatics, Distillation, Environmental, Safety, Ethylene Process, General Process, Oleo Chemicals, ...
Engineering Project Standards and Specifications
Process Engineering, Mechanical Engineering, Civil Engineering, Electrical Engineering
Chemical Manufacturing Reports
Ethylene, Ammonia, LNG, LPG, LNG
Typical Unit Operating Manuals
Hydrotreater Units, Utility Boilers, Waste Water Treatment Units
Training - KLM can provide training in Regional Conferences, Special In House Clases or Via the Web. We also provide general or custom built training videos.
Training
Distillation, Refining, Olefins, Process, Safety, Maintenance, ...
Training Calendar
Distillation, Refining, Olefins, Process, Troubleshooting, Flare and RV Systems, Safety, Maintenance, ...
High Value Training Plan
In House High Value Training Plan
Conferences
Regional Conferences or In House Training for your team.
Training Guidebooks
Training Course Materials
Process Safety Managment Consulting - KLM can provide Process Safety Management Auditing, Consulting, Documentation and Training for your team
Process Safety Management Consulting
Technical Services - KLM can provide Technical Services Consulting and Training for your team
Areas of Specialty
Distillation Fundamentals, Pressure Relieving System Design, Equipment Design, Project Specifications, Training, Simulation, Energy Optimization
Operation Commissioning
Roles and Responsibilities
Successful Commissioning
Engineering Solutions with Equipment Supply
Updates and Partners
International Association of Certified Practicing Engineers
Contact Us
Physical Address, Contact Number...